A week after Cyclone Josie struck the Pacific island, another cyclone has formed near Vanuatu and is expected to reach Fiji in the next couple of days.  Cyclone Keni could be a category 3 by the time it makes it to the west coast of Fiji.  See the map below.
People in Nadi and the western area of Fiji are on high alert for heavy rain, high seas, destructive winds and flooding.  As a precaution, hundreds have already taken shelter in evacuation centres.
Fiji Airways (FJ) announced cancelled services today (Monday 09 April).
The full list of affected flights can be viewed HERE and this site will be updated as the situation develops.
Virgin Australia (VA) has not yet provided an advice.  You can check the status of flights HERE.
Cyclone Keni is expected to impact Fiji for the next 48 hours or so.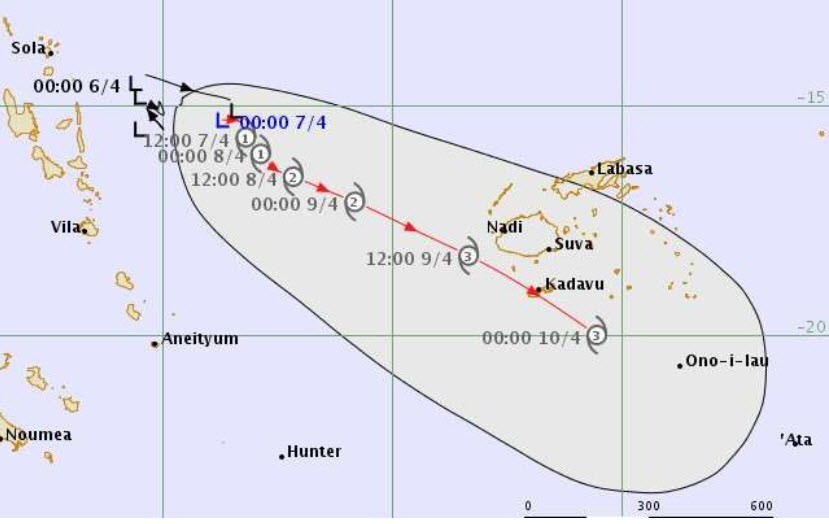 Further assistance
Campus Travel can be contacted 24/7, 365 days a year.
Number: +61 7 3393 8855 (calls from overseas)
Number: 1300 662 703 (calls from within Australia)
Email: uq@campustravel.com.au
If you require emergency assistance while travelling, please contact Chubb Insurance Assistance. The contact details are listed below:
Travel emergency 24/7 contact
Chubb Assistance phone +61 2 8907 5995 and quote UQ policy number 01PP529201. Reverse phone charge is available.